Beer Braised Pork Carnitas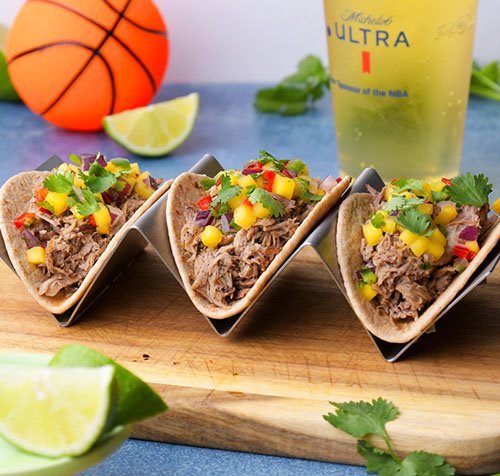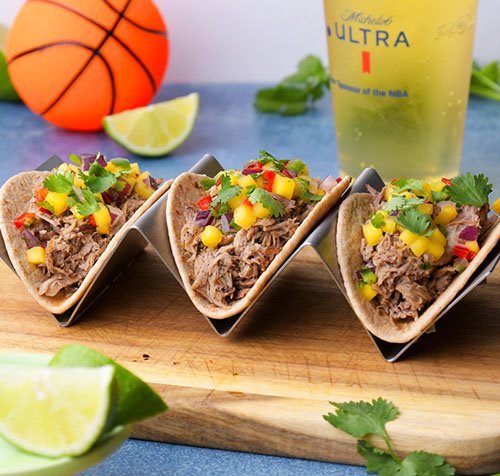 Beer Braised Pork Carnitas
Ingredients
Prep Time 30 minutes
---
● 2-3 tablespoons oil
● ~4 lb. pork shoulder
● 2 tablespoons cumin
● 1 tablespoon dried oregano
● 1 tablespoon chili powder
● 1 tablespoon paprika
● ¼ tsp. of cayenne pepper
● 1 packed tablespoon brown sugar
● Salt to taste
● Black pepper to taste
● 1 medium white onion, diced
● 4-6 cloves garlic, minced
● 12 oz. bottle of your favorite beer
● ~32 oz. low sodium chicken broth (pour until it is covering ⅔ of the meat)
Instructions
Total Time 6 1/2 - 12 1/2 hours
---
1. Mix all dry ingredients.
2. Season the pork shoulder (this can be done a day in advance).
3. Heat oil in a large pan over medium-high heat.
4. Sear all sides of the pork shoulder until golden brown.
5. Remove pork shoulder from the pan, leaving any bits and pieces behind, and cook onions for about 3 minutes, then add garlic and cook 2 minutes more (more oil might be needed).
6. Deglaze the pan with the 12 oz. of beer and bring to simmer for about 2 minutes.
7. Scrape everything into the crock pot, then place the pork on top.
8. Add the low-sodium chicken broth until it covers about ⅔ of the pork.
9. Slow cook on low for up to 12 hours or on high for up to 8 hours.
10. Remove the pork from the slow cooker, shred it, strain, then save the cooking liquid, discarding the leftovers that were strained out.
11. Shred the pork and add the cooking liquid (about one cup, but you can add more).
12. Serve with whole-wheat tortillas, onion, cilantro, lime, mango salsa, and queso fresco.