Peanut Noodle Salad Jar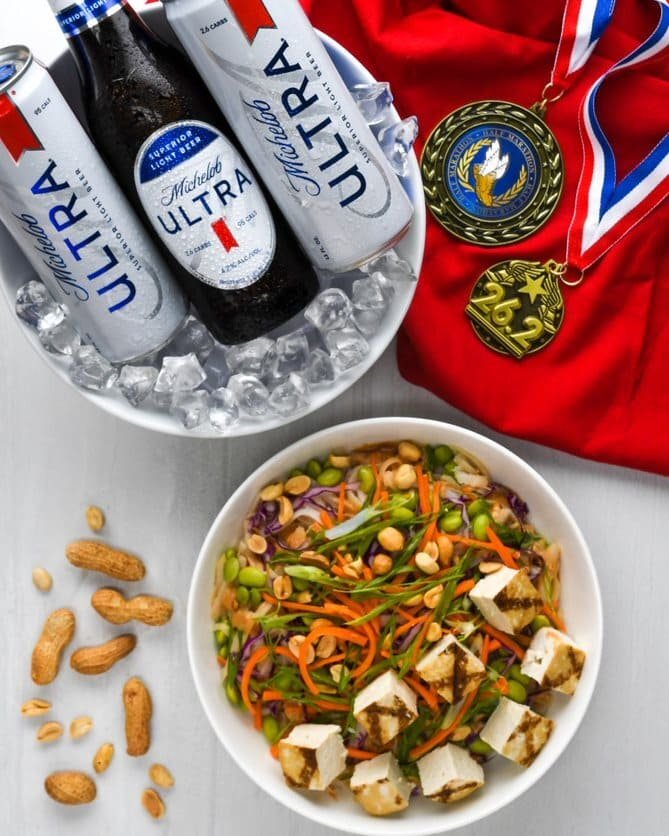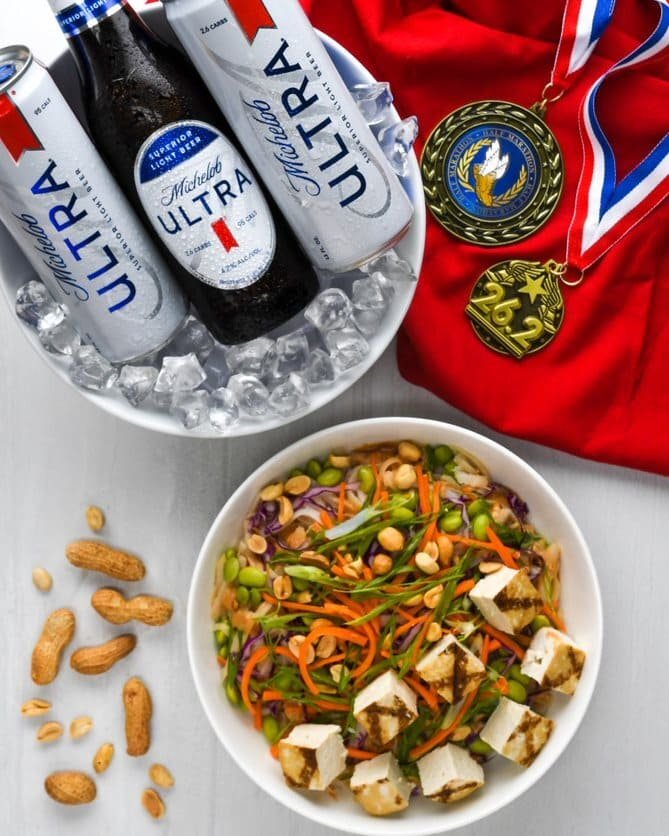 Peanut Noodle Salad Jar
Ingredients
Prep Time 15 minutes
---
Mung Bean Noodles
● 100 g mung bean starch
● 500-600 ml water, divided
Peanut Sauce
● 1 cup peanut butter
● 4 tablespoons soy sauce
● 3 tablespoons sesame oil
● 2 tablespoons rice vinegar
● 3 tablespoons water
● 1 tablespoon brown sugar
● 1 clove garlic minced
● 1⁄2 tablespoon fresh ginger, minced
Salad
● 1⁄2 cup shredded carrot
● 1⁄2 cup shredded red cabbage
● 3⁄4 cup edamame, shelled peanut, for garnish
● ADD ON- baked Tofu or grilled chicken
Instructions
Total Time 3 hour 30 minutes (includes chill time for noodles)
---
For Noodles
1.To a bowl, add 100 ml of water to the mung bean starch and mix well.
2. In a pot, bring the remaining 500ml of water to a boil, then turn to low heat.
3. Add the starch water slowly to the hot water, and stir the mixture quickly until the starch begins to turn gelatinous.
4. Generously grease an 8 x 8 inch glass dish so nothing will stick. Pour in the hot starch mixture and chill in the refrigerator for 3 hours or until solidified.
5. Once solid, use cheese grater to cut perfect noodles. Set aside for salad assembly
6. Grill for 10-15 minutes until the dough is puffy and golden. If using the oven it may take 15-18 minutes. Serve and enjoy!
For Sauce & Salad
1.Combine the peanut sauce ingredients in a bowl and whisk until smooth. If you like it spicy add red pepper flakes or chili sauce (I like sriracha).
2. In a large bowl, add the fresh noodles, carrots, red cabbage, and edamame. Pour the sauce over the top, and mix well until the sauce is fully incorporated.
3. Transfer to bowls and top with peanuts, black sesame seeds, and scallions. Optional: add some sort of protein to the top like baked tofu or grilled chicken, and serve with an ice cold Michelob ULTRA. Enjoy!