Serena Williams Roasted Veggie Tacos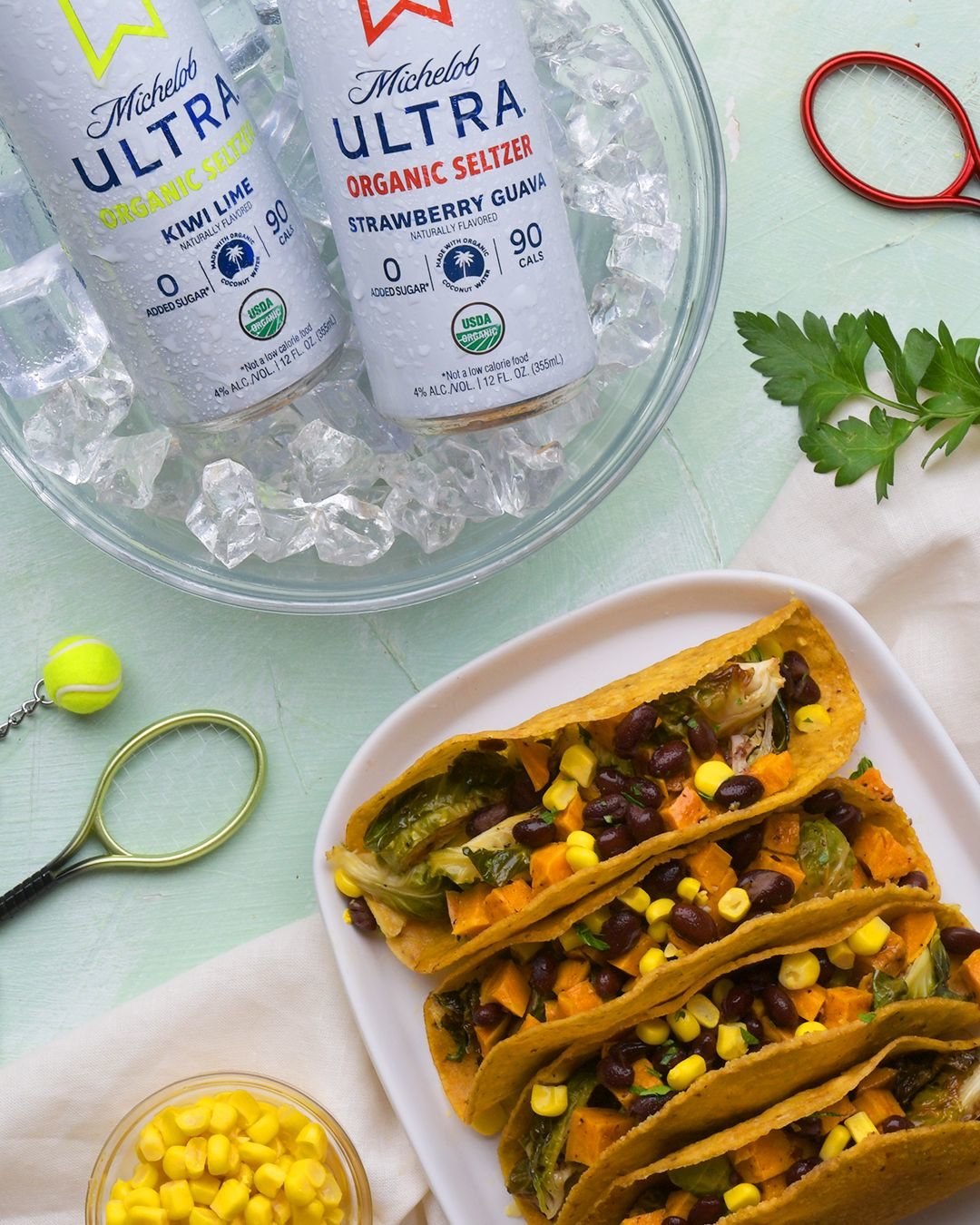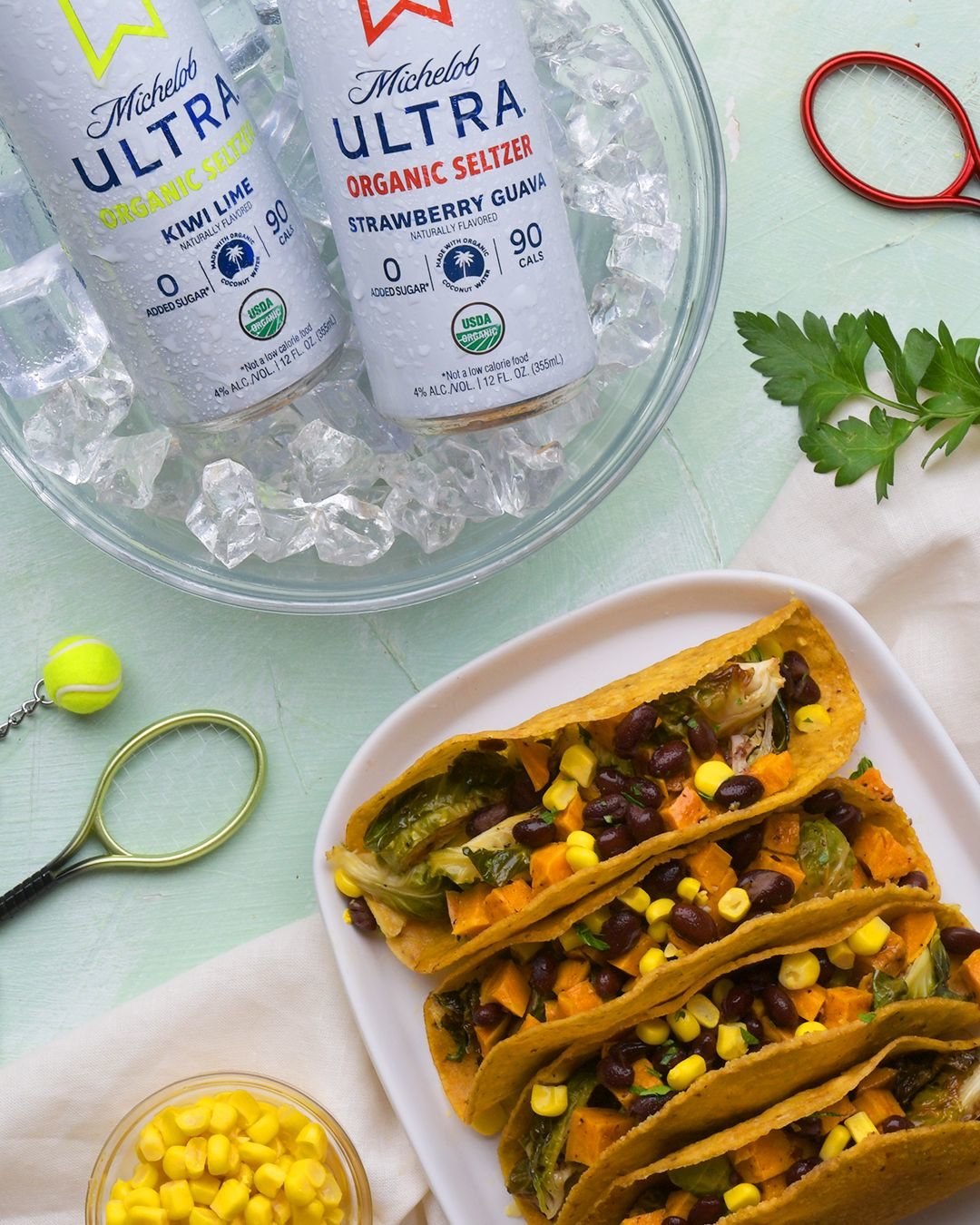 Serena Williams Roasted Veggie Tacos
Ingredients
Prep Time 30 Minutes
---
● 1 lb brussels sprouts, trimmed and quartered
● 1 medium sweet potato, peeled and cut into ½" thick half moons
● 1 red onion, thinly sliced
● 1 teaspoon kosher salt
● Black pepper
● 2 tablespoons brown sugar
● 2 teaspoons paprika
● 2 teaspoons dried oregano
● 1 teaspoon chili powder
● 1 teaspoon ground cumin
● ½ teaspoon garlic powder
● ¼ cup of olive oil, plus more as needed
● Cilantro leaves, for serving
● Vegan tortillas of choice or lettuce leaves (such as butter lettuce)
For the Vegan Green Goddess Dressing (Yields 2 cups)
● 1 avocado, peeled & pitted
● ½ bunch of cilantro
● ⅓ cup of pistachios
● ½ a jalapeno, de-seeded (if you like spicy, feel free to use the whole jalapeno) • 1 ½ teaspoon kosher salt
● Black pepper
● Zest of 1 lime
● Juice of 2 limes
● ½ cup plus 2 tablespoons of water
● ½ cup plus 2 tablespoons of extra virgin olive oil, plus more if needed
Instructions
Total Time 1 Hour
---
1. Preheat the oven to 425 F. In a small bowl, combine the olive oil, brown sugar, paprika, dried oregano, garlic powder, salt, and pepper. Mix to combine.
2. Prep and cut your vegetables, and place them in a large mixing bowl. Add the olive oil spice mixture, and stir to mix well. If the vegetables seem a little dry, add more olive oil a tablespoon at a time until they are well coated.
3. Once coated, place the vegetables on a large rimmed baking sheet or 2 baking sheets if they are too crowded on one.
4. Roast for 10 minutes at 425 F, stir everything with a rubber spatula, and continue to roast for another 6-8 minutes until the veggies can be easily pierced through with a fork and have started to caramelize in spots. Taste and add additional salt as needed, then set aside to cool.
5. To make the vegan green goddess dressing, add the avocado, cilantro, pistachios, jalapeno, salt, pepper, lime zest, lime juice, and water into a food processor. Pulse until everything is mostly broken up and mixed together for about 30 seconds. Then, drizzle in the olive oil and blend until smooth. The sauce should be the consistency of a creamy salad dressing. If it's too thick, add more olive oil a tablespoon at a time until it reaches the right consistency. Taste, adjust seasoning as needed, and serve in a bowl beside the roasted veggies, tortillas of choice, and lime wedges.